Retinol Creams
ADVANCED RETINOL FOR SKIN FORMULATIONS TO IMPROVE VISIBLE SIGNS OF AGING
SkinCeuticals high-concentration retinol cream is available in three strengths and ideal for most skin types with visible aging concerns. Enhanced with the latest stabilization and delivery technologies to provide maximum efficacy, these retinol creams improve the appearance of fine lines, wrinkles, discoloration, skin texture, and blemishes with minimum sensitization.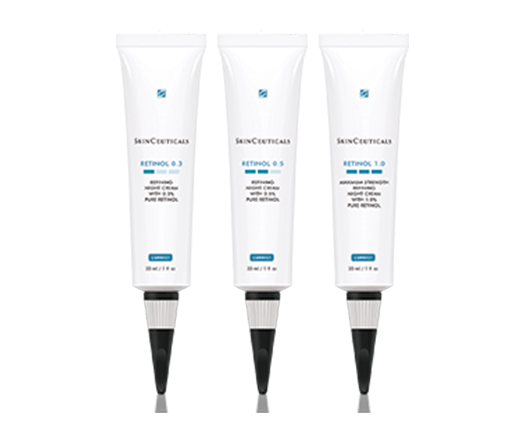 Concentrated facial cream with pure retinol improves the appearance of visible signs of aging and pores while minimizing breakouts.

A concentrated pure retinol cream for face diminishes the appearance of multiple signs of aging simultaneously

A high-concentration pure retinol cream for experienced retinol users to refine and improve multiple signs of aging simultaneously.