Night Creams
TARGETED NIGHT CREAMS FOR SKIN DISCOLORATION, ANTI-AGING, AND ACNE
Skin uses the nightly sleep cycle to repair free radical damage accumulated throughout the day and to rebuild its natural defenses. Formulated with proven, high-concentration ingredients, SkinCeuticals night creams address a range of skin concerns including fine lines, wrinkles, skin texture, and discoloration.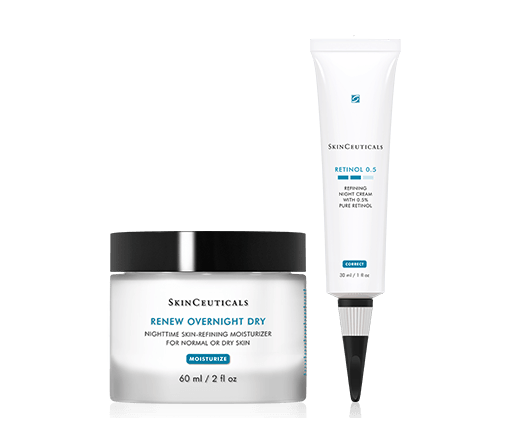 Glycolic 10 renew overnight improves the appearance of skin texture and tone to promote a bright complexion and glowing skin.

Concentrated facial cream with pure retinol improves the appearance of visible signs of aging and pores while minimizing breakouts.

Anti aging treatment cream to refill cellular lipids and nourish dry skin.

A concentrated pure retinol cream for face diminishes the appearance of multiple signs of aging simultaneously

A concentrated night face serum with pure antioxidant-rich resveratrol to reveal visible radiance and firmness.

A high-concentration pure retinol cream for experienced retinol users to refine and improve multiple signs of aging simultaneously.